Whether your visiting the French Riviera for an afternoon or a week, Nice should be high on your list of cities to explore.  In trying to come up with our top 25 things to do in Nice, we considered the typical tourist hotspots as well as some of our local favorites.   I hope this guide provides ideas for your next vacation along the Cote d'Azur.
Top 25 Things to Do in Nice, France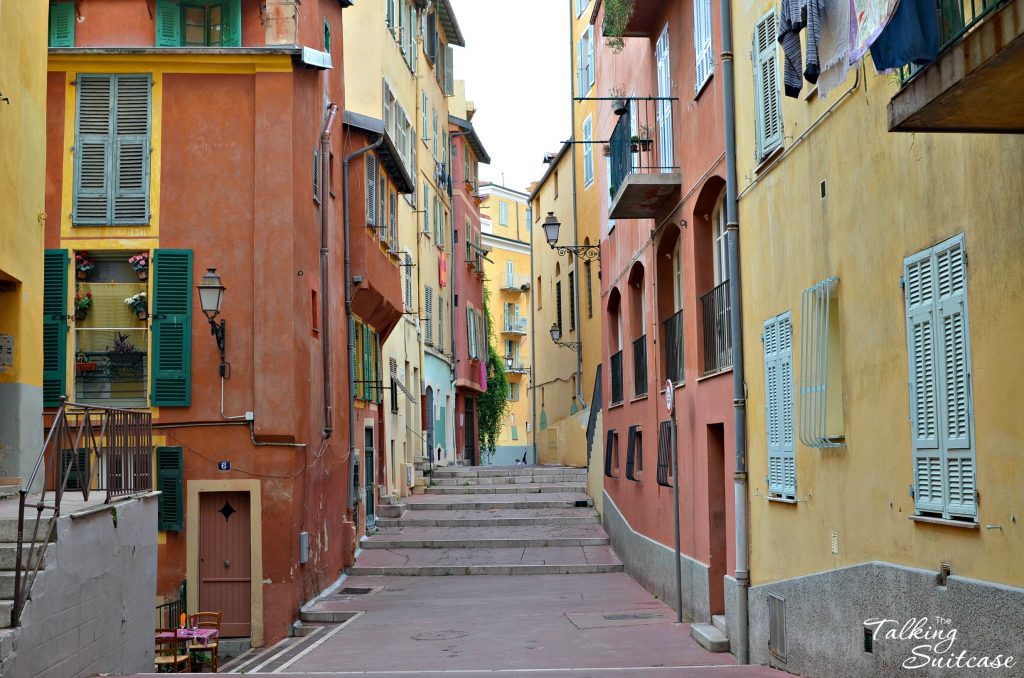 The Old Town is the perfect spot to begin your journey in Nice. From the beautiful buildings to the fresh market in Cours Saleya to enticing shops and quaint restaurants, everyone enjoys strolling along these age-old streets.  As you wander around, stop for a visit at the Palais Lascaris, a great museum in the heart of Old Town.  The seventeenth-century aristocratic building, now houses a musical instrument museum. While seeing the collection of instruments is definitely interesting, it's the building itself, with beautiful frescos and intricate tapestries, that we most enjoy.
Pop into the Église Saint-Jacques-le-Majeur de Nice on Rue du Jesus which was originally constructed in the 1600's by the Jesuits. After the Jesuit Order was expelled by Pope Clement XIV, the church became a parish in 1801. The church is lit-up at night, so make sure to walk by if you're in the area after dark.
Stop by Place Rosetti and visit the Cathédrale Sainte-Réparate. The Baroque cathedral has a gorgeous alter and incredible ceiling that is a work of art.
Traveler's note: There is an LCL bank ATM machine in Place Rosetti.  I use this one since they don't have an additional fee and I get various bill denominations – I hate it when an ATM just gives out 50's!
Every morning, except for Monday, you can admire the stalls of the Cours Saleya Market.  Pick up fruits and vegetables for a picnic lunch, grab a souvenir for a friend or stop to smell the roses at the Marche aux Fleurs.  The brightly colored awnings will guide you through the market and out toward the Opéra de Nice Côte d'Azur on Rue Saint-François de Paule. If you choose, you could walk along the Quai des États-Unis to escape the crowds.
*Monday, the area becomes an antique market where vendors sell clothing, dishes, furniture, jewelry and more.
Place Massena is recognizable by the Fontaine du Soleil with its massive statue of Apollo.  Relax in the Jardin Albert I or the Promenade du Paillon.   You can also fit in some shopping on Rue France or enjoy some high-end, wallet emptying shopping on Avenue de Verdun. Follow the tram line toward the gare (train station) along Avenue Jean Medecin, stopping by Basilique Notre-Dame de Nice, where you continue with more shopping and sightseeing.
The Liberation market, a favorite of locals, can be found as you continue along Avenue Jean Medicine past the train station.
Read more about shopping, eating and exploring around the Liberation Market.
The St Nicholas Orthodox Cathedral should be high on your list when visiting Nice. I didn't add this to my article on what to do with kids in Nice, but once the Cathedral came into view the kids and I said a collective "WOW".   Sometimes my kids are a little bit more into architecture than other children.