Whether your visiting the French Riviera for an afternoon or a week, Nice should be high on your list of cities to explore.  In trying to come up with our top 25 things to do in Nice, we considered the typical tourist hotspots as well as some of our local favorites.   I hope this guide provides ideas for your next vacation along the Cote d'Azur.
Top 25 Things to Do in Nice, France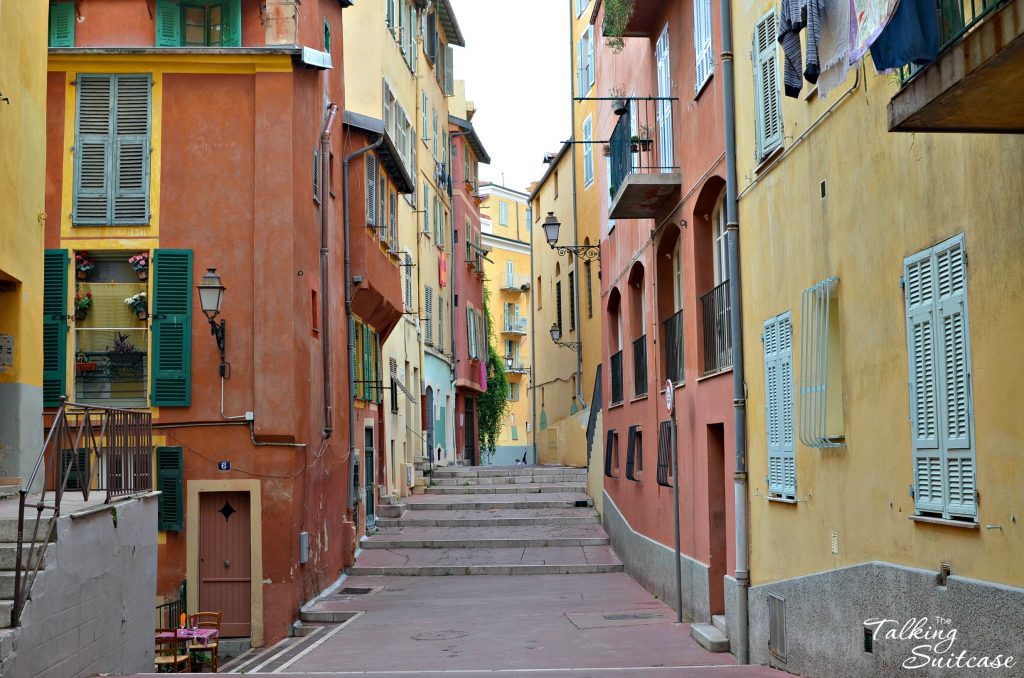 The Old Town is the perfect spot to begin your journey in Nice. From the beautiful buildings to the fresh market in Cours Saleya to enticing shops and quaint restaurants, everyone enjoys strolling along these age-old streets.  As you wander around, stop for a visit at the Palais Lascaris, a great museum in the heart of Old Town.  The seventeenth-century aristocratic building, now houses a musical instrument museum. While seeing the collection of instruments is definitely interesting, it's the building itself, with beautiful frescos and intricate tapestries, that we most enjoy.
Pop into the Église Saint-Jacques-le-Majeur de Nice on Rue du Jesus which was originally constructed in the 1600's by the Jesuits. After the Jesuit Order was expelled by Pope Clement XIV, the church became a parish in 1801. The church is lit-up at night, so make sure to walk by if you're in the area after dark.
Stop by Place Rosetti and visit the Cathédrale Sainte-Réparate. The Baroque cathedral has a gorgeous alter and incredible ceiling that is a work of art.
Traveler's note: There is an LCL bank ATM machine in Place Rosetti.  I use this one since they don't have an additional fee and I get various bill denominations – I hate it when an ATM just gives out 50's!
Every morning, except for Monday, you can admire the stalls of the Cours Saleya Market.  Pick up fruits and vegetables for a picnic lunch, grab a souvenir for a friend or stop to smell the roses at the Marche aux Fleurs.  The brightly colored awnings will guide you through the market and out toward the Opéra de Nice Côte d'Azur on Rue Saint-François de Paule. If you choose, you could walk along the Quai des États-Unis to escape the crowds.
*Monday, the area becomes an antique market where vendors sell clothing, dishes, furniture, jewelry and more.
Place Massena is recognizable by the Fontaine du Soleil with its massive statue of Apollo.  Relax in the Jardin Albert I or the Promenade du Paillon.   You can also fit in some shopping on Rue France or enjoy some high-end, wallet emptying shopping on Avenue de Verdun. Follow the tram line toward the gare (train station) along Avenue Jean Medecin, stopping by Basilique Notre-Dame de Nice, where you continue with more shopping and sightseeing.
The Liberation market, a favorite of locals, can be found as you continue along Avenue Jean Medicine past the train station.
Read more about shopping, eating and exploring around the Liberation Market.
The St Nicholas Orthodox Cathedral should be high on your list when visiting Nice. I didn't add this to my article on what to do with kids in Nice, but once the Cathedral came into view the kids and I said a collective "WOW".   Sometimes my kids are a little bit more into architecture than other children.
The interior is not what I expected and I think my jaw literally dropped. The Russian Orthodox Church in Nice is the largest Russian Orthodox cathedral in Western Europe. The cathedral was opened in 1912, thanks to the support of Russia's Tsar Nicholas II. The exterior is spectacular but it's the inside that is truly majestic. The interior contains a vast collection of decorative woodwork, icons and historical items moved from Russia to Nice during the Russian Civil War.
Get superb photos of Nice from La Colline de Château (also called Castle Hill) which can be accessed through Old Town via Montée du Château.   There is no castle here though!  It was destroyed in 1706 leaving behind ruins.
Stop by to admire the cemetary, Cimetière Israelite, on your walk up.  This Jewish cemetery & Holocaust memorial is a lovely spot to visit.   You could also take the staircase or elevator (Ascenseurs) on Montée Lesage.  Either route you choose, visit the waterfall, château ruins and park.  Being the highest altitude in Vieux Nice, it's the perfect spot for Panoramic views of the Port, Promenade des Anglais and Baie des Anges.
Walk down the Port side to see the colorful fishing boats, Pointus.  Walk around to the opposite side of the port and possibly stop for coffee at Club Nautique while watching the sailboats head out to sea.  Or continue down (possibly taking bus 38) to Coco Beach.
On your way back toward the Old Town, pay your respects at the Monument aux Morts, which honors the Nice citizens killed during WWI.
On the eastern side of Old Town you'll find Place Garibaldi. Admire the 18th century Baroque architecture and see the Giuseppe Garibaldi Fountain. Garibaldi was responsible for unifying Italy in the late 19th century.  He is called the "Hero of Two Worlds" because of his military enterprises in Brazil, Uruguay and Europe. And interestingly, received financial and military support from the United States.
If you're looking for a sweet treat, stop into Patisserie Cappa. The Café de la place is also a good place to stop for a coffee and has good Wifi.
Next to the square, you can access MAMAC or Le Musée d'Art Moderne et d'Art Contemporain. This contemporary art museum with changing exhibitions has a great rooftop terrace.
A great spot to see the beautiful Mediterranean Sea is along the Promenade des Anglais. Rent full-size bikes all along the Promenade from Vélo Bleu or just stroll along and enjoy the atmosphere. We spend many evening outside as the kids ride up and down the Promenade.
I'd suggest walking all the way down to Le Negresco, stopping to enjoy the sites. While you're down that way, consider a visit to the Massena Museum as well.
If you're looking to walk off some of that fabulous Niçiose cuisine, a hike up to Parc forestier du Mont-Boron should be on your list. You could take the bus if you're short on time or energy.  I'd suggest walking down to Villefrenche-Sur-Mer on the other side of the mountain.  You can always take bus 100 or 81 back to Nice.
See more about what to do at Mont-Born and why you want to enjoy these spectacular views.
Another idea during your visit, is to spend a few hours or even a full day in Cimiez.  Stop by the Musée Marc Chagall on your way to see the biblical works of Marc Chagall.  It's a fairly small museum, so it shouldn't take long.
After walking around the olive grove and visiting the Franciscan Monastery & Italian-inspired gardens (free), see the Musée Matisse to examine works by another famous artist that made his home along the Cote d'Azur.  You can admire paintings and drawings as well as see furnishings, curtains and vases belonging to Matisse.
We'd also suggest the Musée d'Archéologie site de Cimiez et de Terra Amata which is the site of the ancient Roman Baths in the city once called Cemenelum. The site includes locker rooms (men and women shared the same locker room), toilets, swimming pools, hot and cold baths, a political bath (where men discussed politics), market, cemetery, cathedral and more.  The piping system is quite elaborate and interesting to see as well.  We also stood on the old road made of Limestone, still intact after thousands of years!
Make sure to  walk through the Roman amphitheater – yep, there were gladiators here too.  This is one of the smaller Roman amphitheaters holding 5,000 spectators.
Read about everything there is to see in Cimiez.  Take bus 15 if you want to visit the Chagall museum first, otherwise take bus 15 or 17 to head toward the Monastery and Matisse Museum.
Last but not least, the beach.  If you're lucky enough to visit during the warmer months, you could plan an entire beach day on the shore.  Even if the weather is cool, plan to spent time relaxing by the water.  The ever changing blue waters are a treat regardless of the season.  Even better – grab a bottle of rosé and a pizza and enjoy dinner watching the sun set over the Baie des Anges (which translates to Angel's Bay).
Don't forget that Nice is a great jumping off point for your exploration of the Cote d'Azur.  There are countless day trips from Nice, you should consider when visiting the region as well.  You should also see our Ultimate Guide to Family Travel in Nice for more inspiration.  #NiceMoments
Traveler's note: Consider purchasing a 48 hour ticket, 7 day ticket or the French Riviera Pass to save money visiting the museums around Nice.  Kids under 18 are FREE.
 What are your top things to do in Nice, France?