While the French Riviera might conjure up images of celebrities at the Cannes Film Festival and cars zooming around the streets during the Monaco Grand Prix,  the South of France is still a great destination for families.    But what do you do with kids when you visit  France's Southern coast?   I suggest making Nice your home base.  You can easily visit much of the Cote d'Azur from Nice using public transport.  Flights arrive from all over the world into the Nice Airport, so it makes sense that your first stop is Nice.
It's always a good time to visit the South of France.  Nice has 300 days of sunshine a year after all!  My favorite times are the Spring and Fall, but you can find family-friendly activities all year round.   Read on for a locals perspective on what to do in Nice, France with kids.
Since it is likely that most of my American friends don't speak French, I've tried to only include activities that kids can participate in, despite that language barrier.
What to Do in Nice, France with Kids
Hit the Beach
One of the nicest things to do in Nice with kids is a trip to the beach.  If you're lucky enough to visit during the warmer months, you could plan an entire day around the shore. I know many older kids would be perfectly happy to lounge around by the sea all day listening to music, posting Snapchat videos and texting with friends.
Younger kids can throw rocks in the water, collect sea glass or simply take a break and enjoy a snack by the sea.  If it's a sunny day, take a swim.  It's not uncommon for kids to strip down to their underwear and dive in, not that I recommend this over swimming trunks 🙂
You'll find both public and private beaches in Nice.  For a fee, you can take advantage of a lounge chair, umbrella and drink service.  We find that the  public beaches meet our needs, so that's where we take our kids. During the summer, you'll find lifeguard stations at various points to help provide an extra pair of eyes while you're little ones enjoy the sea.
The beach is a pebble beach, no sandcastles here, which is a plus even if it's not particularly comfortable on little feet. You won't have sand clinging to everything after strolling this shoreline. The kids will leave relatively clean after your visit – or as clean as any kids can stay.
If it's a bit chilly outside, you should still plan to spent time relaxing by the water.  The ever changing blue waters are a treat regardless of the season.  While the water can be quite cold in the winter, my kids did swim with friends visiting from the USA in December.  The Riviera sun can get hot, so the sea doesn't usually drop below around 55°F.
A bit of a warning for my fellow Americans, beaches are topless in France.  It's not uncommon to see topless women of all ages sunning themselves.  We made sure to warn the kids before hand – especially having a pre-teen son.  It's totally normal here and you get used to it.
Tip – Bring water shoes, Crocs or Teva's to protect your kids sensitive feet on the pebbles.
Stroll the Promenade des Anglais
Stroll or ride along the Promenade des Anglais. It's a great spot to see the beautiful Mediterranean Sea. Rent full-size bikes all along the promenade from Vélo Bleu or get bikes, scooters and skateboards from Roller Station. We spend many evenings outside while the kids ride up and down the Promenade.
During the warmer months, you'll even see street performers in the evening.  Take a minute to listen to the music, watch the roller bladers skate around cones or buy chocolate covered peanuts from a vendor.
Visit Old Town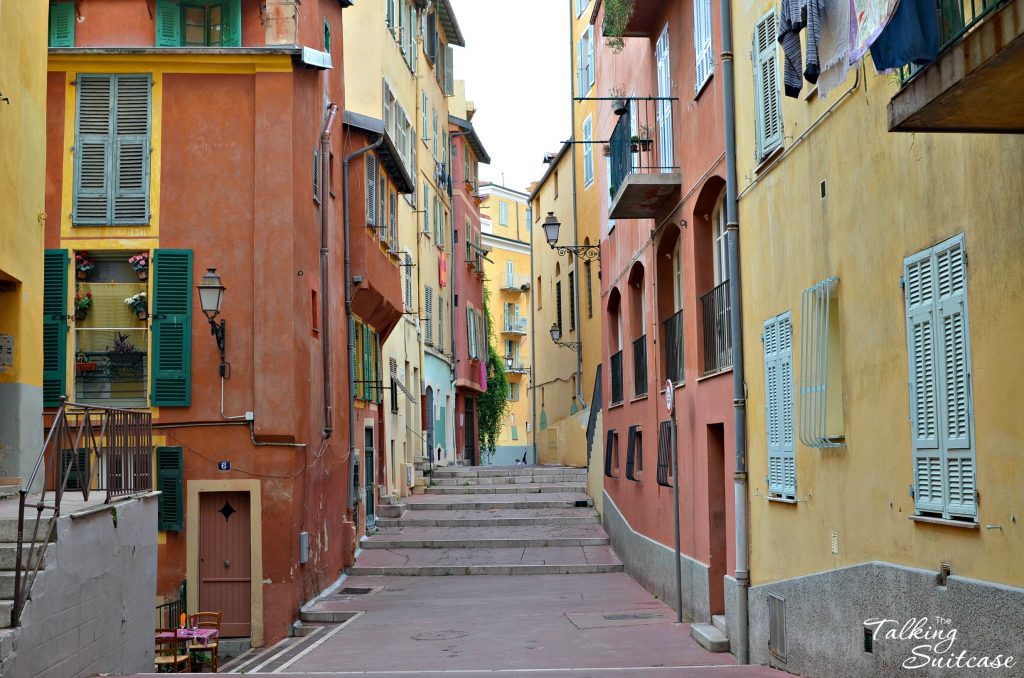 Old Town or Vieux Ville is a happening spot for both adults and children. From the beautiful old buildings, to the fresh market in Cours Saleya, you'll find something to appeal to everyone. The narrow streets will transport you back in time. Have kids keep an eye out for the dates marked above the doorways on many buildings.  What is the oldest they can find?  I live in a building from the 1700's!
Make sure to look up as you wander around as well.  Kids can spot the decorative facades and even see faces carved under the balconies outside the Palais Lascaris on Rue Droite!   After spending time admiring the buildings and shops, cool off with an ice cream treat or pain au chocolat from the boulangerie!
Tip – watch where you walk because not everyone scoops the poop here.  Luckily, the streets of Old Town are washed down early every morning.
Playtime at Promenade du Paillon
The parks throughout Nice are awesome, so you can't go wrong with taking a break and letting the kids run around in one.
One of my kid's favorite parks is right next to Old Town.  You'd never know that underneath the Promenade du Paillon there is a river! An aquatic theme is represented through the wooden play structures of a whale, dolphins, a pirate ship and more all with age range designations to help keep kids safe.  In the summer the kids enjoy getting sprayed from the water jets and misters next to Place Masséna.
Teens are often found hanging out in the park listening to music and chatting with friends as well.  Parks are a space the entire family can go to relax after a busy day of sightseeing.
Keep walking toward the sea through Jardin Albert Ier to find a carousel and more open playspace for the kids. There are also little garden paths kids will love following.
Read more of our picks for the best parks in Nice. There are so many to choose from, but the list includes all our favorites.
Head up to La Colline de Château
Walk or take the elevator (ascenseur), if you have a stroller, up to Parc du Château for spectacular views.  It's also a great spot to let the kids run free. You can go up on the Promenade side and down on the Port side to see more of Nice.  The area is great place to enjoy a picnic lunch or dinner, in a relaxed, family environment.
The Petite Train also goes up to the Château and gives you 10 minutes at the top, just enough time to take pictures.  If the little ones like trains and can't make the walk up, take the train.   The train also drives by the tourist spots, so it's an easy way to cover a lot of ground in a short amount of time.
If you have time to walk around the Port, stop to admire the Pointus on the opposite side of the port. These colorful old fishing boats are a cool site for kids interested in watercraft. Kids will also see several other types of boats docked in the port from charter fishing boats to super yachts. You may even see the Corsica Ferry further around the Port.
Tour the Confectionary Shop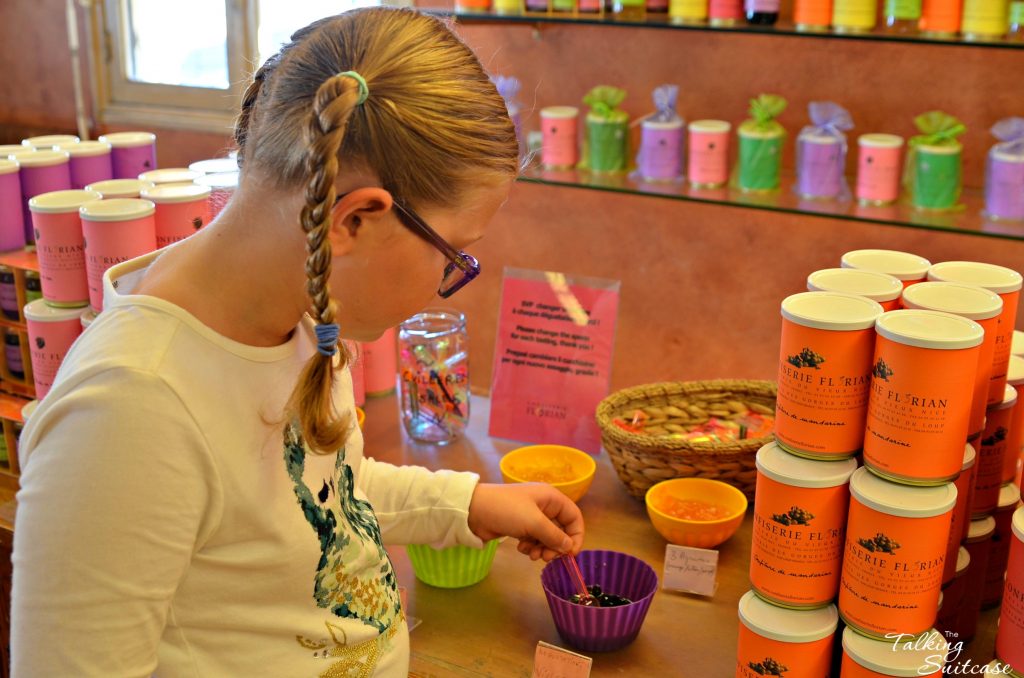 Explore a sweets shop with a FREE short guided tour of Confiserie Florian in the Port. Kid friendly tours can be given in English as well as other languages and will be a delight for kids of all ages. The tour lasts less than 10 minutes, so it's a quick stop while your at the Port. We saw where the chocolate treats were made, learned about French candied fruits and tried a few treats.   In addition to traditional sweets, you'll find French specialties such as jams and crystallized flowers.
Derrick and the kids love white chocolate, so we picked up a bar as a special treat.
Visit a Museum
MAMAC or Le Musée d'Art Moderne et d'Art Contemporain, is centrally located at the end of the Promenade du Paillon by Place Garibaldi.  If you like contemporary art, then you'll enjoy this museum. Personally, we weren't huge fans.   There are some cool exhibits, but Lucy was a bit freaked out over all the artwork made from doll parts. But the rooftop terrace is awesome and offers fantastic views of Nice!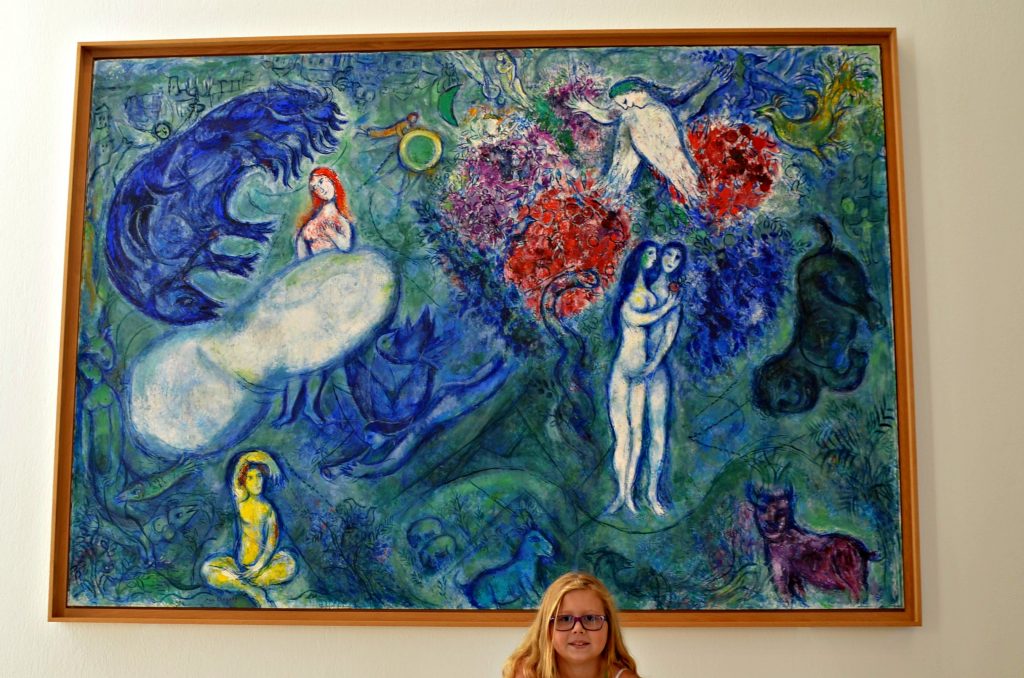 The Musée Marc Chagall is a great museum showcasing some of the works of painter Marc Chagall. The museum features a series of seventeen paintings illustrating biblical messages from the books of Genesis, Exodus and the Song of Songs. In addition to the artwork, you'll see a mosaic and stained glass designed by Chagall.
Interestingly, this is one of the first museums devoted to an artist while he was still alive. Chagall himself even helped design the building. The museum works for older kids because it gives details about the artwork and the artists life all within a fairly small setting. Kids won't have a chance to get overly bored here! While the descriptions of the works on the walls are in French, you'll find tablets with descriptions in English. An audio guide is also available in several languages.  A movie on Chagall's life plays hourly rotating between French and English languages.
Tip – Visit around lunch time (12:30 or so) for less crowds.  Just keep in mind that most restaurants won't be serving when you're done with the museum if you start at this hour.  You'll need alternative lunch options such as dining early, dining back at your apartment or grabbing a sandwich.
Situated in Old Town, I like Palais Lascaris.  This seventeenth-century aristocratic building is now home to a musical instrument museum. Lucy enjoyed our visit and lead us though the rooms explaining everything she learned during a school field trip.  K (12)  looked around for all of 5 minutes then went off to sit on a bench.   While you're there, look for the instrument that has a duel purpose.  Hint – people also use it to walk.
If you have time, head up to Cimiez and have a picnic in the Olive Groves, visit the Monastery and explore the Musée d'Archéologie site de Cimiez et de Terra Amata. The Terra Amata has hands on exhibits to keep kids interested in learning about the ancient Roman Empire plus the archeology site is pretty cool (according to K). You'll find information for the site in English, so you can imagine where the pools, showers, cemetary and baptism areas once stood.
You could also visit the Musée Matisse, but it's not quite as exciting for the younger set.  If you want to visit both museums, I suggest bringing paper and colored pencils or even an ordinary pencil and encourage the kids draw their favorite works. Lucy loves recreating the masterpieces she sees in museums. K enjoys making paper airplanes out of her artwork….
Tip – Kids under 18 get into the museums FREE of charge! Adults can purchase a 48 hour or 7 day ticket or the French Riviera Pass to save money.
Kid Friendly Cafés & Ice Cream Treats
It's always nice to sit back and take a break from exploring.  Stop at a café to recharge with a coffee or soda.  The list below is by no means the only kids friendly cafés in Nice.  These are just a few that I know that have activities for kids.
Cool off with a special treat at one of the many ice cream shops in Nice.  A few you'll want to try include:
César Milano – If you want some seriously tasty ice cream, you must visit during your trip to Nice.  It's some of the best ice cream I've ever had and rivals some of my all time favorites from Italy.
Fenocchio – While I can't claim this is the best ice cream ever, they do offer tons of unusual flavors.  There are three locations in Old Town, so it's easy to stop by to grab a cone.  Try flavors such as cactus, thyme, rose, melon, lemon, vanilla and more.
Biscotto – I haven't had a chance to try this one personally, but many of my friends have raved about the ice cream.  There is also a location in Monaco and both offer other treats as well.
Rainy Day Ideas
Just in case the weather doesn't cooperate during your visit, stop by  the local bowling alley at Acropolis – 5 Esplanade Kennedy, 06000 Nice.  K has bowled there with friends and recommends it to families with older kids.
A visit to the L'Art En Movement or Mechanical Toy Museum is also fun for children. K visited here with a couple of friends and suggested I take Lucy.  Exploring the main floor which houses the restaurant, boutique and gallery is FREE. If you want to visit downstairs, the fee is 3€ pp plus 1€ per token for the mechanical theaters. While I did find the fee a bit high for what was downstairs, Lucy loved the little theaters and recommends it to other young people visiting the area. Each small theater tells a children's story in French; however, the Disney theatre played music in English. Lucy believes kids would still enjoy seeing these mechanical theaters even if they don't speak the language.
I paid 9€ for Lucy and me to visit. This included 3 tokens, but the smile on her face was priceless.
Tip: You're first stop once you arrive in Nice should be to the tourism office to pick up the Family Guide.  The guide lists activities and restaurants that have received the "famille plus" label and will provide useful information during your visit.
Keep checking back, as I'll continue to update this article as we experience more of Nice with kids.  #NiceMoments
You will also want to save time for day trips from Nice – there are a ton of great places to visit such as the Monaco Aquarium.