Who doesn't love unlimited food, around the clock entertainment and almost daily visits to new countries?
These are just a few of the reasons why cruising has become one of the most popular ways to vacation with 22.1 million passengers cruising worldwide in 2014.
With all the sailing opportunities, it's important to make the most of your time and money. That's why we put together these 22 Norwegian Cruise Line Tips and Tricks. Don't miss a chance to experience all that NCL has to offer!
NCL Secrets – Norwegian Cruise Line Tips and Tricks
Cruise savings –
I've written a more detailed article on ways to save on booking a cruise that is worth a read. Many of these tips are the same for all cruise lines, so it's a great article to start off with before you book.
However, there are a couple of tricks specific to NCL.   First, sign up for the NCL newsletter and you will be notifiedof special offers.  Each email will include any available discount, bonus or special available.   It is common for NCL to run "Free at Sea" offers. Depending on the promotion and the room category you book, you can get 1 to 4 free offers per cruise.   These typically include a free Ultimate Beverage Package, free Specialty Dining Package, free Wifi Package or a cruise excursion credit. Pairing these offers with a cruise sale can add up to huge savings.
NCL also offers Military and AARP discounts for those that qualify.
Download my FREE Printable Cruise Planner to keep all your trip details organized!
Cork that bottle –
Alcohol can be expensive on board cruise ships.  Purchase a bottle while on board and have the NCL staff cork it if you can't finish the entire bottle.  At dinner, they will label the bottle with your name and cabin number, so you can enjoy it the next night.
You can also bring your own bottle of wine. You'll pay a $15 corking fee for a 750ml bottle upon boarding. No other alcohol can be brought on board.
Wine Policy – Yes, guests may bring sealed bottles of wine on board for personal consumption. They will be checked prior to embarkation and a corkage fee applied at that time of $15.00 USD for a 750 ml Bottle or $30.00 USD for a 1,500 ml Magnum bottle. Box wines are not allowed on board. If guests do not wish to pay the corkage fee, the wine will be held onboard and returned to the guests at the end of the cruise.
Bring your own reusable water bottle –
Update:  Guests are no longer allowed to bring water and soda on board.  Bring a reusable water bottle to fill it up on the ship and carry it around with you while exploring the port.  You'll need to fill cups provided at the beverage stations with water then pour it into your bottle.
"Guests are prohibited from bringing any beverages — including liquor, beer and non-alcoholic drinks such as water, soda and juices — on board either as carry-on or checked luggage, with the exception of purified or distilled water in factory-sealed containers for use in conjunction with medical devices or for the reconstitution of infant formula"
Drink and eat anywhere –
There's no "open container" rule on board the ship. You can walk around the vessel with drinks or bring drinks from your cabin to anywhere on the ship. You can do the same with food, so grab an extra cookie or 3 and take it back to your room for later.
Getting to know Freestyle Cruising –
The concept of freestyle cruising is a more informal approach to cruising. Instead of having a set eating time each evening, you show up at the restaurant whenever you want to dine. It's pretty much like restaurants off the ship. That being said, you can end up with a wait at peak times. If you know in advance what time you would like to eat, make a reservation.  This can be particularly beneficial to large parties.
Use the flat screen TVs located throughout the ship to see which restaurants are open and the approximate wait times. This can help you determine where and when you want to eat.
Also, don't be afraid to order what you want. You can order multiple appetizers, choose two desserts or get a steak and fish. You're not tied down to ordering one starter, entree and dessert.
View menu's in advance –
Ask to see the week's dining menus ahead of time. This way  you can plan specialty restaurants in advance. Once on board, view the weekly menu then book your dinners at the specialty restaurants based on the menus you don't want to miss. However, popular times and restaurants can fill up quickly.  If you know you want to eat at Teppanyaki, you should book this prior to the cruise as space is extremely limited.
Embarkation day specials –
See what specials are offered for booking specialty restaurants or getting a spa treatment. Keep your eyes peeled throughout the cruise for additional spa specials that often come up on port days.
Laundry discount –
Running out of clean laundry? See if the ship runs a mid week laundry promo.  This can be a great savings, especially if you packed light for the trip. Even if you miss the deadline and didn't put your laundry bag out on time, call and ask if you can still get the special price.  On our last cruise I realized, after getting back on the ship in the evening, that clothes we due out by noon that day.  I made a quick call and they gave me an extension.
*I can't guarantee there will always be a discount, but it's likely.
Turn off cellular data –
Make sure your cellular phone is in "Airplane Mode" or that the cellular data is turned off before you set sail. You could end up with hundreds of dollars in at sea roaming charges if your phone preforms an automatic update or downloads new email.
Free shampoo –
In the shower is a dispenser with free shampoo and body wash. I personally found the quality to be lacking, but if you aren't picky about brands it'll work for your trip.
Ask to have the stateroom fridge emptied –
In each cabin, there is a stocked mini fridge with beverage that are for sale. Ask your room steward to remove the items so you can stock your own fridge. And you don't want to accidentally be charged for something that you pulled out and put aside.
Free commemorative pin –
If you are a Latitudes Rewards member, a commemorative lapel pin is available on your sailing. The pins are available by request only.
Take advantage of the metal doors-
Bring magnets for hanging cruise planners or a white board to leave each other messages. These are great for hanging on your stateroom door – inside or out.
Pack highlighters –
Bring highlighters for kids to mark activities on the daily cruise planner. Having a specific color for each person in your group is also advantageous.
Pack tea lights –
Staterooms can be dark at night and there isn't a lot of room to move around. Purchase battery operated tea lights to place in the bathroom as a nightlight. This is particularly useful if you have kids.  You can usually grab these at Dollar Tree.
Don't lose your keycard –
Purchase lanyards for your kids key cards before you sail. That way, kids will always have their cards with them with little risk of  leaving them lying around somewhere. You can also ask to have charging abilities removed from the kids cards. That will keep them from getting carried away in the arcade 😉
You can also purchase a lanyard for adults.  I hate carrying around a purse while on the ship (through I've recently started carrying a wristlet), and my cruise clothes don't always have pockets.
Bring a European adaptor –
The NCL cabins have both US and European adaptors. Maximize your charging capacity by bringing along a European plug adaptor.
Take a wrinkle releaser –
Don't get stuck with wrinkled clothing. Hang your garment on a coat hanger and spray with wrinkle releaser. Hang the item in a steamy bathroom and your garment should look like it was just ironed.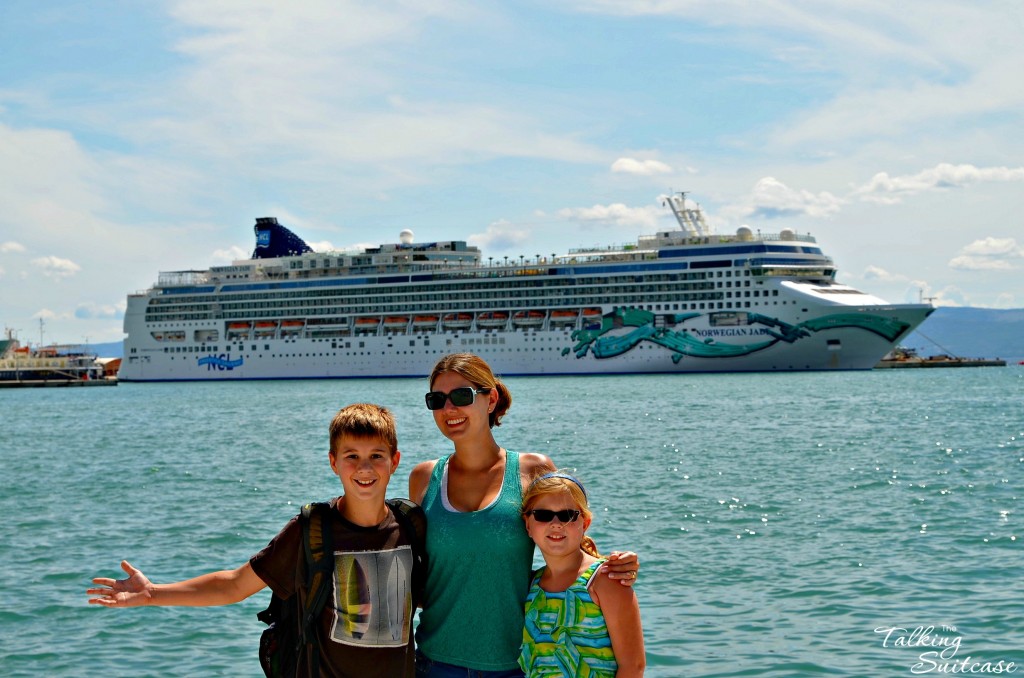 Don't forget your watch and know your time zone –
It's imperative that you pay attention to ship time and bringing a watch is ideal while cruising. It's good to know what time it is on the ship, but even more important while off and in port. You don't want to miss the boat!
You may change time zones during your cruise and your cellphone may not always keep up. On our most recent cruise, we were in Greece and didn't have a watch. I couldn't figure out if my cell phone displayed the right time or if it was still an hour behind. It was the wrong time for hours and when it finally changed,  I panicked. What was the true time? Missing the ship would NOT be good.
Get back to the ship on time –
And speaking of not missing the ship, snap a picture of the "all aboard time" with your phone or camera in case you forget what time your supposed to be back on the ship.
Plan in advance –
Prior to boarding, plan out your port and sea days. What do you want to see in each port? What excursions will you take? Get aquainted with the ship via the website diagrams, so you have some idea of where the "hot spots" are located. Where will you eat once you board the ship the first day? Then arrive early and take a tour. Cruise ships are HUGE so don't spend your entire cruise walking around lost.
Latitude rewards –
NCL has a program called Latitudes Rewards that provides special offers to members. You can enjoy exclusive on board benefits, special discounts and more.
Once you have completed your first cruise, you are automatically enrolled in the program. You don't have to do anything and your rewards are automatic.
Latitudes Rewards members will receive a monthly email with the Latitudes Insider Offer letting you know about special rates just for Latitudes Rewards members. Read all about the program HERE.
As with any cruise line,  there are so many tips that are both specific to NCL and general cruising tips that are worth mentioning.  I hope this article has helped provided you with a few NCL secrets that you didn't already know.  If you're not sure what cruise to take, read these six simple steps to pick the perfect cruise ship for your next family vacation.
What other NCL secrets can you share? I'm sure that are more Norwegian Cruise Line tips and tricks that I have yet to discover.
More about cruising with NCL: