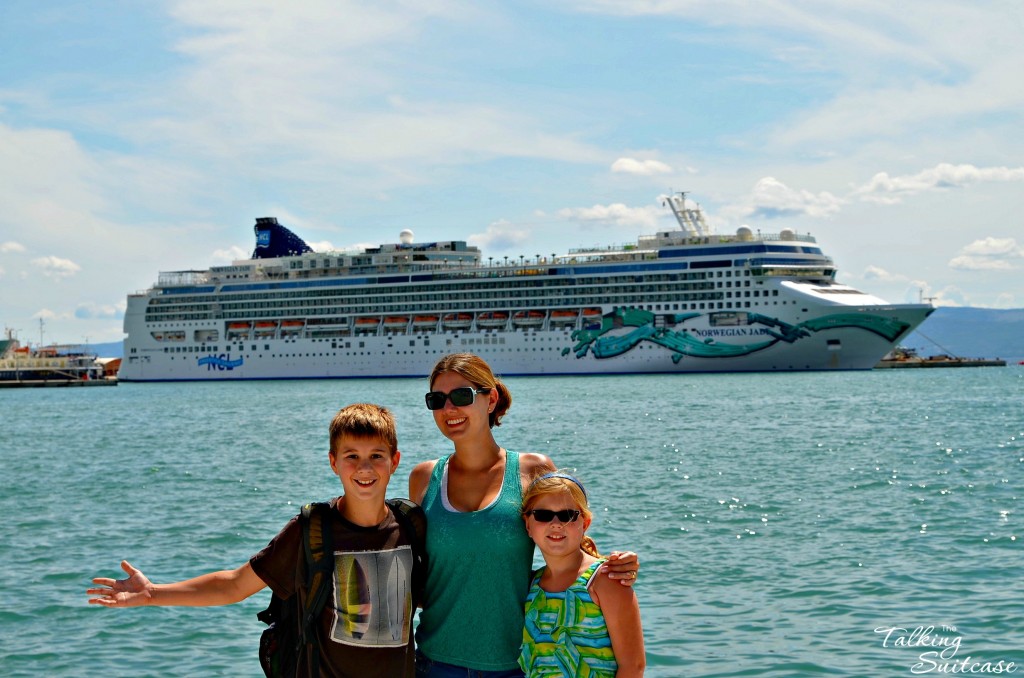 The cruise industry is booming.   It's continued to grow over the last 10 years, and isn't showing any signs of slowing down.   Over 25 million people are expected to cruise in 2017!   Fleets are also expanding, with 26 new ocean, river and specialty ships said to debut this year alone.   With all the new and veteran cruisers setting sail, I thought it would be the perfect time to go over some first time cruise tips to help make your next voyage a success.
I've put together a range of quick tips from things to do before you sail to things not to do while your enjoying the ship and amenities.  Let us know if you have any other tips to share!
Cruising Do's & Don'ts – First Time Cruise Tips
General –
:: Do pre-book your shows and speciality dining reservations.
:: Do complete your luggage tags and pre-cruise documents before getting to the port.
:: Don't go on a European cruise line and expect American type cuisine and shows. And vice versa. Foods & activities are generally tailored to the region of travel.
:: Do choose a stateroom in the middle of the ship if you tend to get seasick.  For more ideas on cabins, I've previously shared "how to pick the perfect cruise staterooms for your family".
:: Do pack a sweater or jacket. It can be chilly in the restaurants and theaters.
:: Do budget for onboard expenses such as drinks, excursions, and gratuities.
:: Do consider the season you'll be cruising.
:: Do use the stairs.  It's usually faster if only going up or down a couple of floors – and it's better for your health.
:: Do consider using a qualified travel agent to book your cruise.  The service is free, and you'll likely save money plus get extras that you wouldn't receive if booking yourself.
:: Do purchase cruise insurance.
:: Don't neglect passport and visa requirements.   You don't want to be denied boarding or not be allowed off the ship at a port of call!
:: Do pack a power strip with USB plugs to charge all your electronics.  Families, particularly, will  find  a shortage of outlets to charge everyone's devices.
:: Don't fly in the day your cruise sails.  You don't want to risk missing your cruise due to a flight or transportation delay.  Plan to arrive a day early.
:: Don't pack a hair dryer.  They are provided in each cabin.
:: Don't forget sunscreen. It's expensive to purchase on the ship.
:: Do take advantage of all the amenities offered. Cruiselines put out a daily newsletter of all the activities, events, and services available.  Most will be free and those that aren't will be noted.
:: Do carry-on identification, cruise documents, medications, money, electronics and anything you may need until after dinnertime.  Luggage doesn't usually arrive until just before or after dinner.
:: Do be aware that gratuities are either paid before cruising or charged to your onboard account.  This is an additional expense and not part of the cruise purchase.
:: Don't wait to settle your onboard account the morning of departure.  Take care of it the night before if charges weren't automatically made to your credit card on file.
:: Do arrive on time for the mandatory safety drill.
:: Don't get stuck with a huge cellphone bill.  Put your phone on airplane mode or check your carrier's roaming charges.
:: Do register for any specialty restaurants, spa services or excursions on the first day of the cruise, if you forgot to pre-book these.
:: Do chat with the crew.  They can provide insider information on the ship and ports of call.  Also, because the crew is from all over the world, it's interesting to learn about their country and families.
:: Do be prepared to have your photo taken.  You can opt out, but it's easier just to stop and smile.
Drinking & Dining –
:: Do use hand sanitizer when entering eating areas.  Let's keep those germs at bay!
:: Don't use your hands at the buffet – the tongs and spoons are there for a reason.
:: Don't stand around in the buffet area looking out the window – move out of the way so people can get their food.
:: Don't be scared to ask for something not on the menu. They can usually accommodate reasonable requests.
:: Do opt to eat breakfast and lunch in the dining room on occasion, instead of only eating at the buffet during these meals.
:: Don't eat something if you don't like it. Ask for something else.
:: Don't pile your plate at the buffet. You can go back for more.
:: Do use a new plate each time you get more food at the buffet.
:: Don't assume the "drink of the day" is a good deal.  Order it because you want it, not because you think it will save you money,
:: Do try new foods and drinks.  Try a small bit of curry or order an unusual cocktail.
:: Do be respectful to those serving you.
:: Don't skip room service.  Many cruise lines offer this service for free, so check your specific cruise and dine in bed or on the balcony.
:: Do consider budgeting for one specialty dining experience.
:: Do be prepared for motion sickness.  Bring Dramamine, ginger tablets and sea bands.
:: Do bring on your own wine or champagne if the cruise line allows.
Recreation –
:: Do shower before entering the pool area. The showers are located right next to the pool.
:: Don't hog tables and chairs around the pool area.  Do your 3 kids really all need their own lounge chairs for the 30 minutes total they will be there?
:: Do research ports of call before sailing.
:: Don't think the casino has a good payout – this isn't Vegas.
:: Do attend port talks if you haven't researched the port of call in advance.
:: Don't assume cruise ship excursions are the only option.  Research excursions offered by both the cruise line and independent operators before sailing.  See more tips for selecting cruise excursions.
:: Don't miss the shows.  They are included in your cruise purchase.
Family  –
:: Do take advantage of the kids club – it's fun for kids and the adults get a break.
:: Do pack a nightlight.  Cabins can be very dark, so it helps for kids to have a little bit of light.
:: Don't let your kids run and yell down the hallway of the stateroom areas. This is where people sleep.
:: Do consider multigenerational travel. Cruises are a great vacation to take grandparents, aunts and uncles. There is something for everyone on these floating cities.
:: Do pack a stash of medications, especially for kids.  The ships doctor can provide medication in a pinch and some over-the-counter meds are available for purchase onboard.  But it's best to save money and a headache by packing your own.
:: Do purchase lanyards for the kids sea cards.
:: Don't be afraid to meet new people. K still messages with friends he's met while cruising.
:: Do pack some type of white noise machine (or have an app downloaded on your phone) to help drown out noise during the kids afternoon nap.
:: Don't book your trip over a school holiday and not expect a cruise full of families.  I've heard many people complaining about too many kids on a cruise – it was Spring break!
:: And lastly, do be prepared to want to book another cruise.  Being catered to with nearly unlimited food and drinks, visiting multiple destinations without having to change hotels and experiencing first class service and entertainment is addicting.  After all this, I think it's time for me to book another cruise!
If you're looking for more advice, we have cruising tips and guides for several lines such as Disney, Royal Caribbean, NCL and MSC.
Are you one of the 25 million people cruising this year?  Share with us your first time cruise tips in the comments.