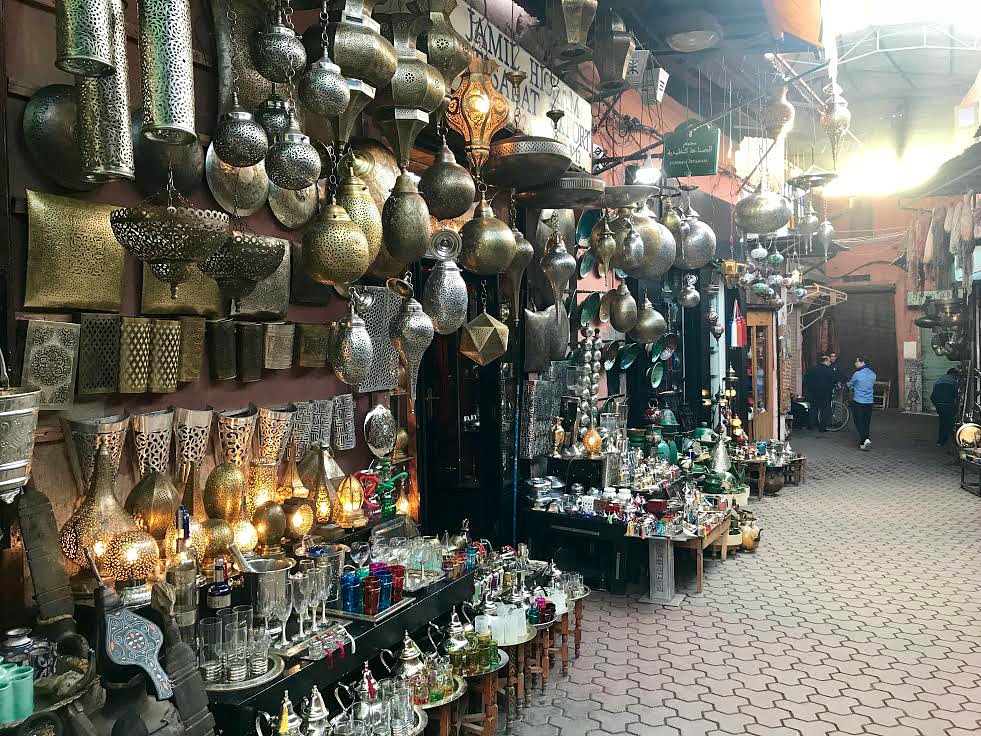 Marrakech is a city unlike any other we have visited.  The history and culture of this former imperial city intertwine with beautiful architecture and bright colors. The smell of spices and smoke from smoldering fires and sizzling meat make you feel like you've entered another world. The city can overwhelm new visitors, we certainly were! So I put together an extensive list of things to know before visiting Marrakech to help other newbies acclimate and have a memorable vacation.
20+ Things to Know Before Visiting Marrakech
Be prepared for sensory overload – There is nothing subtle about this city. The sights, sounds, smells and mass of people and animals can be overwhelming.  It's all part of the cities charm and the reason you wanted to visit Marrakech in the first place, right?
Currency is the Moroccan Dirham (MAD or Dh) – However, euros are accepted at many locations. We even paid for our tours and taxi to and from the airport in euros through our riad (apartment).
At the time of writing, 1 USD = 9.15 Moroccan Dirham or 1 euro = 11.37 Moroccan Dirham. Another way to look at it is if you spend 100 MAD that is equal to $10.92 USD.
Without having to overthink things while shopping, I kept in mind that if I was spending 200MAD, it was roughly $20.  This is, of course, not exact, but removing a zero from the price in MAD helped keep me within budget.
Use cash – Morocco is a cash society, so you'll want to make getting cash a priority. Many ATM's are located in the Jemaa el-Fna (main square of the Medina) plus other cash machines can be found throughout the city, though these can be few and far between. Credit cards are accepted at hotels as well as some restaurants, but not all.
At the Marrakech Menara Airport, there is an ATM after you pass through customs and baggage claim. Before heading outside the main doors, look around the corner on the right. There is also an ATM located in the departure area.
You can also exchange money at Bureau de Change, also after customs, but a better exchange rate at the airport is said to be in the departure hall. The best cash exchange rates will be outside of the airport in the city center but you can still generally do better by using an ATM, which is what I always recommend.
The ATM at the bank Society Generale charged a 20MAD (~$2.17) fee that I didn't see disclosed before withdrawing cash.  Banque Populaire and La Banque Postale (located at the post office) did not charge a fee.
Don't forget to let your bank know that you'll be traveling! Some credit card websites have an automated selection for this.
See our tips for getting money in foreign countries.
Get small bills and coins – Getting cash is only the first step. All those 200 and 100 MAD bills will not help you shopping in the Souks. It's like having a bunch of $100 and $50 bills in your wallet and trying to buy a pack of gum at the store.  Pop into a Tabac (corner store) or two for bottled water and break those 100 MAD bills.
Spend cash before leaving – Morocco has a closed currency, so you can't exchange MAD outside of the country.  Balancing not getting out enough cash from the ATM and not having enough to spend can be a struggle.  If you find yourself with leftover money at the end of the trip and don't want to exchange it before leaving, head to the Souks to pick up a few more gifts.
Bargaining is the name of the game – As an American, I HATED this part of Morocco.  I am terrible at haggling and I don't like the back and forth of negotiating a price. I want to see a sticker price and pay for my item. Simple.
But you must bargain on every purchase in the Souks. I even had a shop owner tell me that I had to "play the game" and laughingly told me it was their national sport.  The starting price will be ridiculously high.  Like 550MAD for a 100MAD scarf.  While I think we overpaid the entire trip, the first day was the worst. I was nervous about negotiating, felt bad asking for a lower price and hated saying "no".
However, I quickly learned to come back with an equally ridiculous low price and work from there.  I even walked away a couple of times only to have the shop owner chase me into the street to complete the sale. But if you walk away, be prepared to stick to your price and leave if they still won't meet your offer.
By the end of the trip, shop owners kept telling Derrick I was a "Berber woman." I'm still not sure if that was a compliment or not…
This is also where the small bills tip comes in handy. It's pretty difficult to negotiate someone down to 80MAD then hand them 200MAD expecting change.  One shop owner told us he didn't have change, so we needed to buy something else.  Save yourself the hassle and break those bills early on.
The same goes for cabs.  Don't be afraid to haggle on the price BEFORE getting in. You can always find someone else to give you a ride.
As a tourist, you should expect to pay more than a local. But there is a limit to how much more that should be!
Research prices in advance – The internet is full of information, use it!  Get some ideas of things you may want to purchase during your visit and research the approximate cost. This will assist you in your bargaining and help you know the maximum price you're willing to pay. That way, when the negotiating begins, you have an idea about where you want to end up.
Popular souvenirs include:
Teapots and teacups
Poofs
Carpets – Arabic & Berber
Spices
Argan oil and products
Leather goods
Metal work
Lamps
Scarves
Wooden boxes
Avoid the carpet dealers if you're not planning to buy – During our Medina Tour we agreed to go to the carpet dealers to "see the differences between the Arabic and Berber carpets".  I knew better after having visited a shop in Turkey, but still we went.  The sales pitch was intense and it was nearly impossible to get out without making a purchase.  If you don't want to feel pressured into purchasing, just don't go.
Be prepared to say "No" (a lot) – This is a word you'll need to use frequently throughout your visit.
"No" to the people trying to pull you into their shop or restaurants.
"No" to the people trying to wrap scarves around your head (or the kids), saying "just to take a photo."
"No" to the people offering to give you directions (expecting a fee) as soon as you stop to look at the map on your phone – even if you're not lost.
Dress conservatively – Out of respect for the locals, Morocco is not the country to wear your Daisy Dukes and halter tops.  As a Muslim country, women cover up.  As a top tourist destination, they are more accommodating on the dress code than other Muslim countries but you should still dress conservatively.  Be respectful and pick clothing that covers your cleavage, wear pants or long skirts (at least past your knees) and avoid sleeveless tops. Men should avoid tank tops as well.
I packed scarves for me and Lucy, but we didn't need them. Since non-Mulsims aren't allowed in the Mosques, there was no reason to cover our heads. A scarf would be great to cover your shoulders, if needed, though.
Most tourists were dressed respectfully, but we did see quite a few people that should have rethought their wardrobe.  Did you really need to wear a sheer top?  And please don't bend over in those shorts! People dressed more revealingly definitely stuck out here.
Research the temperature but come prepared for any weather – In winter it can get cold, especially at night, so pack accordingly.  We were lucky around New Years and didn't need coats during the day – just a sweater in the morning. Pack layers so you can add and remove clothing as needed.  At night it was cold and I've read the temperature can drop enough that you'll need mittens, hat and scarf as well.
If visiting in the summer, bring loose clothing. Our Medina tour guide was talking about 40C (104F) temperatures in the summer! Don't forget to pack sunscreen too.
You'll also want comfortable shoes for walking around the Souks. I'd avoid wearing flip-flops as the streets can be uneven and dusty.
Be cautious when kids tell you the road is closed – We had read about this before our trip and actually experienced it a couple of times ourselves.  Once a couple of kids told us the road was closed (fermé in French) that we had walked earlier in the day from our riad.  We just kept going.  The kids will expect a fee to "help" direct you, and you will likely be taken down a road that is, in fact, closed.
Download a good map app – Even with our trusty map app, it's easy to get lost in the winding streets of the Souks. That is part of the experience, but it can be stressful to lose your way. Sticking with the main streets helps. And don't even bother with signs.
As soon as you appear lost or give in an ask directions, you'll find many "helpful" people just ready to assist you. And you might be lead to one of their friends shops instead.  If you do ask for directions, don't let them lead you.  Ask them to point you in the right direction.
We like Pocket Earth App for iPhone because it shows a lot of smaller roads and alleyways that aren't on Google Maps.
Bring an adapter  – You'll want to charge electronics while on holiday. Luckily, the same converters we have for Europe work in Morocco.  We travel with two types, a universal adaptor and a 4-port USB adaptor for our electronics such as phones and iPads.
Don't take photos without permission – Always ask for permission before taking photos of stalls and especially people. Expect to pay a hefty fee if you take photos of the snake charmers or monkeys in the square.  And don't let them put anything on your shoulders unless you're willing to pay.
Personally, I wouldn't let the kids pose for photos with the monkeys.  Not because of the cost, but I didn't agree with the way the monkey's were treated.  The Jemaa el-Fna is a place to see, but we limited our time there.
We found the best time to take photos was during our Medina tour. Walking with a local, it was easier to get permission for photos and we were taken to places that tourists don't typically see without a guide.  We snapped photos of the man cooking bread at the neighborhood oven as well as the man who tended the fires for the hammamm.
Watch out for motorbikes (and donkey's) – Scooters zoom all over the roads and you'll often find a donkey hauling a cart coming up behind you on the streets.  Be alert as you walk around to avoid other pedestrians, motorbikes, vehicles, carts and donkey's.  The streets can be rather chaotic!
Carry tissues and hand sanitizer – You might need those tissues for toilet paper. We ended up at a "toilet" in Essaouira where we walked in and the attendant handed me a bucket of water.  I stared at him and wondered what the heck that was for!  Lucy and I then proceeded to the stall to find a hole in the floor.
Choose accommodation carefully – Marrakech can be hectic. After a busy and possibly stressful day, you'll want a place to escape and relax.  We stayed in a Riad within the Medina and highly recommend the experience. These traditional Moroccan homes have an open courtyard in the center.  Our Riad even had a mini pool, but it was too cold to use.  Don't let the plain exterior fool you, the interiors can be quite remarkable and modern.
We made sure to read the reviews carefully to ensure it was quiet and that we were renting the entire riad since we were traveling with the kids.  We did, however, get woken early every morning by the call to prayer.  But that's all part of the experience.
Learn a few words in Arabic – Wherever we travel, we always try to learn a few basic words in the local language.  Many of the people we spoke with were Berber, so they also had their own dialect. During our tour to the Atlas Mountains we learned "thank you" in Berber, but that was about the extent of our ability to speak that language.
Within the tourist areas, and even many of the Souks, some English is spoken.  But if you can speak French, it's even better. French is the unofficial second language. You'll even notice signs in both Arabic and French throughout the city.
Be prepared for a long wait arriving at the airport – The customs line at the Marrakech Menara Airport took FOREVER. And I'm not exaggerating.  We waited over 2 hours in line to get through customs.  And to get to the line is a huge mess.  I have never been pushed around so much.  I actually wanted to turn around and get back on the plane. Be prepared for the madness and also have a bottle of water handy.  Snacks for the kids can also be a good idea.
You'll have plenty of time to complete the customs form while waiting in line, but you'll need the address of your accommodation, passport and a pen. As an American, we didn't need Visa's.
And leaving from the airport – Allow plenty of time to get to the airport, check in, and go through security & customs. You must go to the check-in desk with a completed customs form before heading to security even if you don't need to check luggage. Your ticket information and passport will be verified and your boarding pass stamped. You'll need to show this, the customs form and your passport at customs. Thankfully, we only waited in this line 20 minutes!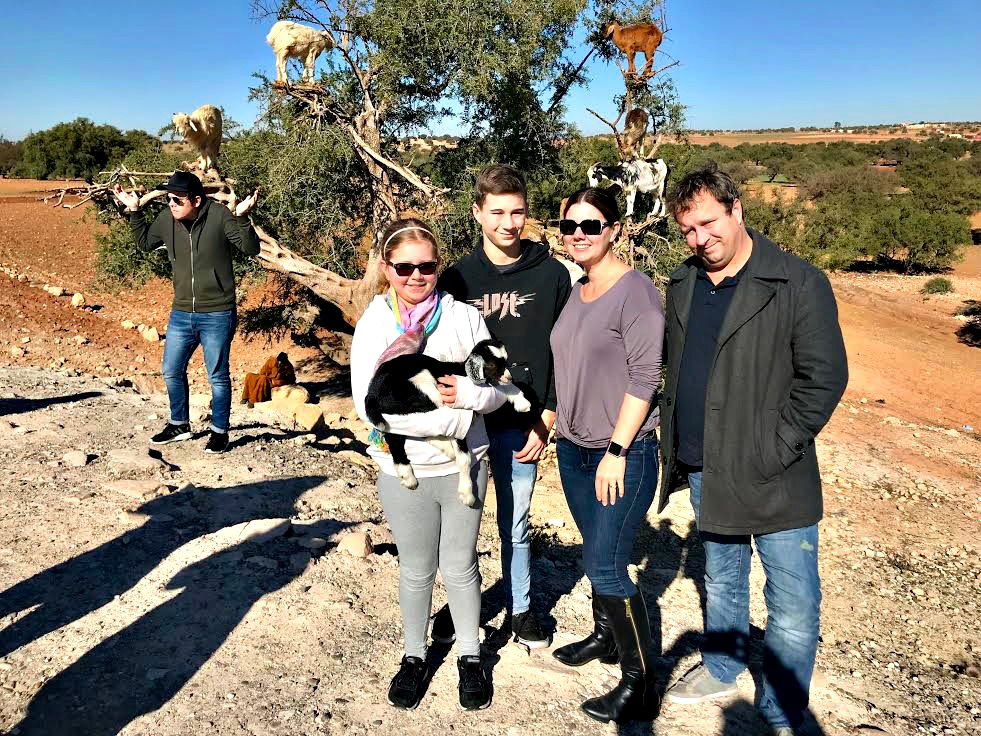 Take a daytrip – Get outside of the city to experience more of Morocco. We took a daytrip to the port city of Essaouira and another trip to the Atlas Mountains. I highly recommend both tours. If you want to shop, we found Essaouira to have slightly better prices.  We also took a camel ride that the kids enjoyed, but left me a bit disappointed.  The camel ride took place in a neighborhood, so it wasn't exactly what I had envisioned. We would have loved to visit the Sahara Desert for a few nights, but we didn't have enough time.
Marrakech is a vibrant city filled with color, tradition and friendly people. It can also be chaotic, loud and stressful. Come prepared to be hassled and have to negotiate before making a purchase or jumping into a cab.  Enjoy the smells of roasting lamb and tagine as you get lost in the winding streets of the Souks. Embrace the contradictions of the city and you'll have a fantastic visit in the bustling city resting in the foothills of the Atlas Mountains.
What other things should visitors know before visiting Marrakech?