Even if you only have 48 hours to dedicate to Stockholm, you can still see a great deal of the city in such a short amount of time. We spent three nights as part of our 2-week Scandinavian adventure and while we didn't get to see everything on our list, we were still able to gain a great appreciation for the city. We put together suggested itineraries for Stockholm, Sweden that will be perfect for teens, tweens, their parents and grandparents. It's never easy to find things 3 generations will enjoy, but we gave it our best shot!
English speakers will have no problem in the city as most Swedes speak perfect English. Many signs and menus are in Swedish and English, so it's an easy European country to visit without fear of a language barrier.
Suggested Itineraries for Stockholm, Sweden:
This is a full schedule and doesn't allow for you to read all the information in the museums. Additionally, we've put Tivoli on day #2, but you could add it in on day #1 if time allows, then spend more time at the museums on day#2.
Full day #1 = Daytrip to see Drottningholm Palace by boat (about 3 hours) and the Royal Palace
Full day #2 = Museums, Tivoli and Canal Tour
If arriving late in the day, you can still take advantage of having 48 hours in Stockholm and maximize your Stockholm Pass.
Half day #1 = Royal Palace and Canal Tour (afternoon/evening)
Full day #2 = Museums, Tivoli and riding Hop On-Hop Off Bus
Half day #3 = Drottningholm Palace by boat (morning)
What to do with 48 hours in Stockholm:
One of the must-see sites in Stockholm is the Vasa Museum. The entire family was highly impressed – And that's saying something! You could easily spend several hours exploring every inch of the intriguing museum, but we were on a tight schedule and only allowed ourselves a couple of hours. The Vasa is a well-preserved, 17th-century warship that sank in the Stockholm harbor in 1628 on its maiden voyage. The ship remained under the water for 333 years until being discovered and salvaged in 1961.
The warship is massive and intricately detailed. In addition to seeing the warship, visitors can see objects that were found in the ship including personal belongings from the crew.  There is also a section showing the remains of some of the crew who went down with the ship. While this part of the museum was disturbing for Lucy, it was interesting to see how scientists were able to reconstruct how some of the crew members looked and make educated guesses to their lifestyles based on the remains. An interesting film looking at who was at fault for the sinking of the Vasa is also worth watching. Even if you don't see a single other museum in Stockholm, the Vasa is definitely worth a visit!
We were also surprised to find the Nordic Museum so interesting – Lucy particularly enjoyed it. There was a kids area, a house from the 1940's, jewelry, fashion and more. The beauty of having the Stockholm Pass was that we could go through fairly quickly, stopping to see more of the attractions we preferred.  Lucy could have spent more time, but K was happy to move along.
We had a fairly inexpensive sandwich lunch at the cafe in the Nordic Museum.  Compared to other restaurants in the area, it was a great value for the money and allowed us to eat quickly so we could keep exploring.
While in the area, you can make a quick stop to the Spirits Museum and the Vikingaliv. Both are included with the Stockholm Pass, but I wouldn't recommend visiting if you don't have the Pass. Also if you're short on time, you could skip these 2 attractions. We visited because they were only a short distance from the Vasa and Nordic Museums, and I wanted to make the most out of the Passes.
The Spirits Museum is the place to "taste, smell and learn about the Swedish spirit tradition." We quickly walked through the Absolut Art Collection laughing at some of the works. The kids stopped at all the interactive displays and smelled fragrances from a variety of spirit ingredients. I think we spent approximately 30 minutes in the museum.
The Vikingaliv is next to the Spirits Museum and brings Vikings to life with interactive exhibitions and a Viking ride. We had just visited the Viking Museum in Oslo, so we skipped the exhibitions and walked downstairs for the ride. I found the story rather interesting, but Derrick and the kids were hoping for something a bit more exciting.
An alternative to the Spirits Museum and the Vikingaliv would be to visit the Skansen Open-Air Museum.  It hadn't opened for the season when we visited, so we didn't get a chance to visit. The Skansen Aquarium is located inside the open-air museum as well.
Visit the Royal Palace to see the Royal Apartments, the Tre Kronor Museum and the Treasury. We skipped the Livrustkammaren, Royal Armory, but you could add that in with more time. The Royal Palace dates back to the 18th century and provides an interesting look into the Swedish Royal Family. The Royal Apartments are lovely. We saw Gustav III's state bedchamber, the banquet hall where gala dinners are held and more. Guided tours are available but we chose to wander around ourselves. The Treasury was interesting yet small. Lucy loved admiring the crowns and K enjoyed seeing Gustav Vasa´s sword.
The Tre Kronor Museum was interesting and teaches about the original Tre Kronor Palace which was destroyed by fire in 1697. Some of the objects that were rescued from the fire are on display. The kids found it interesting to wander underneath the Palace as you are essentially exploring the basement. We moved rather quickly through but it was still worth a look and is included in the Stockholm Pass.
After visiting the Royal Palace it was time for a little break so we jumped on board a boat to take the Royal Canal Tour. Stockholm is beautiful from the water and it was a great chance to relax and learn a bit of history. I'm not familiar with the Swedish Royal family but one tidbit we learned from the cruise was that the Swedish Princess and future queen married a commoner, her personal trainer. We passed by Stockholm's Old Town, Slussen, and the islands of Fjäderholmarna known as "the gateway to the archipelago" during our cruise.
Unfortunately, the Gröna Lund Tivoli opened for the season 3 days after our departure. The kids were rather bummed as they had enjoyed visiting Tivoli in Copenhagen and this park appeared to have some cool rides – plus it's on the water! Whether your visiting with teens or younger kids, it should definitely be on your to-see list.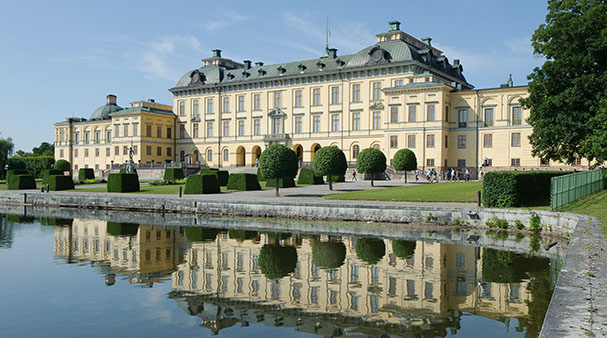 Drottningholm Palace can be accessed by train or boat from Stockholm, but the most scenic way to arrive is via boat.  Drottningholm Palace is the private residence of the Swedish royal family and was originally built in the late 16th century. This UNESCO's World Heritage is well preserved and even features a Chinese Pavilion!  The Palace is the King and Queen's permanent home residence; therefore, the rooms in the southern wing of the palace are not open to the public. Pay careful attention to the boat departure times, especially during the off season.  The boat only runs a few times per day on the weekends.
Included with our Stockhom Pass was the Hop On – Hop Off bus. It was great to have a way to get to attractions, but the time table was difficult to predict in April. We used the bus to travel from our apartment in the Old Town to the Vasa Museum, then rode the bus around once in the evening just to relax and see more of the city. We left for Helsinki on the Viking Line and the Hop On – Hop Off bus does stop at the port on days when ships are departing. If your pass is still valid, it's an easy way to get to the pier without additional costs.
We had planned to pop into the Stockholm Cathedral, but ran out of time during our visit. There are countless other experiences to have in Stockholm but they either weren't open during our visit or we ran out of time. We also spent some of our visit just wandering the streets of Old Town and sampling Swedish dishes. We feel it's important to always plan some down time to just walk aimlessly through the streets and to try local foods.
A few places you may want to walk past, in addition to exploring the Old Town, are the Stortorget Neighborhood which has the oldest square in Stockholm, the Strandvägen which is a boulevard completed for the Stockholm World's Fair 1897 and the Stadsbibliotek library, one of the city's most notable structures.
Must Try in Stockholm:
Derrick always puts together a list of "must try" specialty items and beer stores when we visit a new destination.  Here's the list he put together for our trip:
"Dagens rätt" (today's dish/special) or simply "Dagens
Milk – There's minimjölk with almost no fat content, gammaldags mjölk – old fashioned raw milk which is creamy and unhomogenized.
Kanelbulle – If Sweden had a national food, it would be the cinnamon bun
Toast Skagen – prawn cocktail is made with peeled prawns, mixed with mayonnaise, dill and lemon topped with fish roe and served on crisp, sautéed bread
Try Meatballs, Herring, Gravadlax cured salmon, and reindeer, burgers, sausage etc.
For the adults…
Systembolaget – government-owned liquor stores. It is the only retail store allowed to sell alcoholic beverages that contain more than 3.5% alcohol  (Where to go for wine, spirits and beer)
Nya Carnegiebryggeriet
Places to Eat in Stockholm:
We had a fairly inexpensive meal (by Swedish standards) at Barrels Burgers and Beer "Gamla Stan".  This was right across from our apartment.  The burgers were good, the guys enjoyed a beer and the service was great.
The three largest and most iconic markets in town are Östermalms Saluhall located in the Östermalm district, Hötorgshallen in the Norrmalm district, and Söderhallarna located on the island of Södermalm (Söder). These can be great to grab a bite to eat or pick up food to take back to your accommodation.  Derrick purchased reindeer sausage and moose sausage at the Östermalm market.
Our Recommendation for Accommodation Stockholm:
We rented a fantastic apartment through Airbnb and can't recommend it highly enough. The apartment was large, airy, clean and communication with the owner was easy.
New to Airbnb? Use THIS LINK to sign up and get a $40 credit on your Airbnb rental!
Stockholm Pass:
We felt the Stockholm Pass was a great value.  We had the 2-day pass and were able to explore a lot of the city during that time. However, please be aware of the seasonal limitations. The Hop On – Hop Off Boat wasn't running during our April visit and the Hop On – Hop Off Bus wasn't running on a regular schedule. There is also a "red" Hop On – Hop Off Bus that is not included in the pass.  We found this rather confusing and noticed the "red" bus seemed to run more frequently.
Additionally, the stockholm walking tour was included in our pass but was only available on Saturday's, so we missed out. Finally, I would have preferred to have public transportation included in the pass as it is in many other cities.
The cost of our 48 hours in Stockholm without the pass would have been 1649 SEK per adult, more if Tivoli had been open. That's a savings of 805 SEK or approximately $93 USD! If you have more time in Stockholm, you could do even more with a 3-day pass. The longer the pass duration, the better the savings. I suggest purchasing online in advance as the passes regularly go on sale.
| | | |
| --- | --- | --- |
| 1 Day Adult Pass | SEK 645.00  | |
| 1 Day Child Pass | SEK 323.00  | |
| 2 Day Adult Pass | SEK 845.00  | |
| 2 Day Child Pass | SEK 423.00  | |
Included FREE with the Stockholm Pass:
*Normal prices as of 2018
Hop on Hop off Bus (valid entire pass period)
Adult: SEK 400
Child (6-15): SEK 200
*Can use as transport to attractions such as museums if wanted, BUT comes every 30-40 minutes.
Vasa Museum
Normal Price: Adult: SEK 130
Kids free
Royal Palace
Normal Price: Adult: SEK 160
Child (7 -17): SEK 80
Vikingaliv
Normal Price: Adult: SEK 149
Child (7 – 15): SEK 120
Royal Canal Tour
Normal Price: Adult: SEK 220
Child (6-15): SEK 110
Museum of Spirits
Normal Price: Adult: SEK 120
Child (15-18): SEK 50
Nordic Museum
Normal Price: Adult: SEK 120
kids free
Gröna Lund Tivoli
Normal Price: SEK 120 (ages 7+)
Plus cost of rides
Storkyrkan – Stockholm Cathedral
Normal Price: Adult: SEK 60
kids free
Drottningholm Palace and boat tour
Normal Price: Adult: SEK 350
Child (6-15): SEK 175
*similar price to take the train but more time.
Not included in Pass but for reference:
*1 single ride tram ticket = $5.24 USD or 44 SEK
— 24 hour card adult = 125 SEK
— 72 hour card adult = 250 SEK
Discount over 64 years and under 20 years
— 24 hour = 85 SEK
— 72 hour = 125 SEK
Visiting during the shoulder season means that not all the included attractions are open. We marked off countless places we wanted to see that weren't open,  many actually opened the next week so plan accordingly. Despite the hiccups we experienced visiting in April, we more than made up our money with the Stockholm Pass.  It was also great to have everything we wanted paid for and already worked into the budget. Once it's paid for, you don't get miserly about going in a museum that you might like, but seems pricey.
Stockholm is a beautiful city spanning 14 islands with cobblestone streets and an Old Town straight out of a storybook. Almost everywhere you turn, you're rewarded with lovely water views. The city with it's many bridges is fairly compact and easily walkable. This modern city is the perfect destination for a Scandinavian adventure!
Do you have other suggested itineraries for Stockholm, Sweden or other ways to spend 48 hours in Stockholm?  Tell us in the comments.
Need more tips?
Disclosure:  We were provided with Stockholm Passes to facilitate this review.  Additionally, we are affiliates of the Liesure Pass Group and earn a small commission on sales.  As always, all opinions are 100% my own and may differ from others.
Drottningholm Palace photo credit: Stockholm Pass