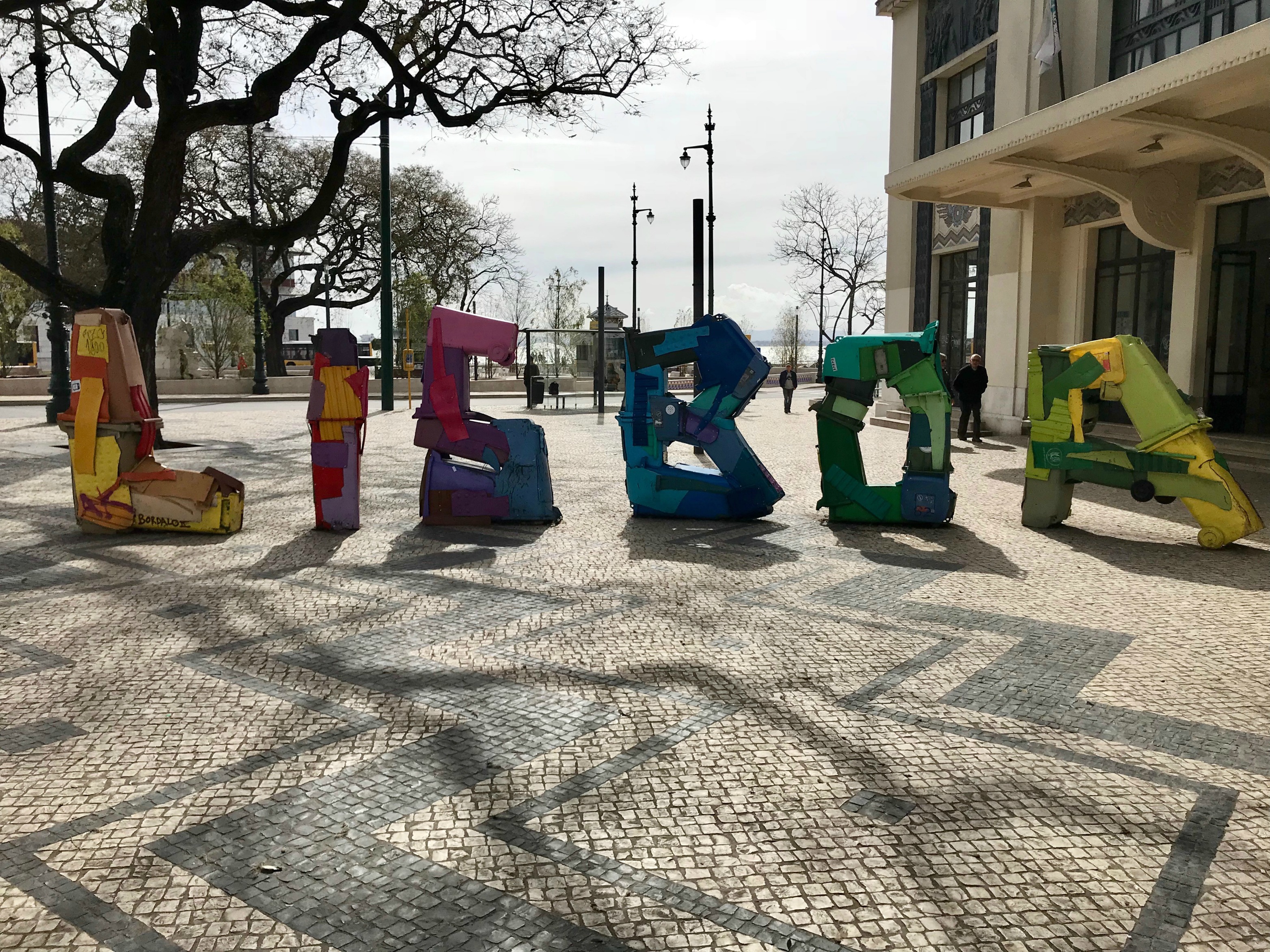 Lisbon, Portugal had been on our bucket list for years and we FINALLY got the chance to check it off a few weeks ago! This captivating city with it's arched yellow buildings and perfect blend of modernization, history and tradition make it the ideal European destination. I can't believe it took us so long to visit! As we discovered during our holiday, there were a ton of things to do in Lisbon with teens.  Taking selfies from panoramic view points, visiting a castle and palaces, eating delectable Portuguese tarts, and riding the famous wooden tram were just a few of the adventures that awaited us.
Originally we wanted do a 1-2 week roadtrip through the country, but couldn't work it into our schedule.  Instead, we spent 5 nights in Lisbon and would return in a heartbeat. The city was beautiful with so much to see in the surrounding areas that our short visit didn't allow nearly enough time. Good thing there are direct flights from the USA. We're already talking about a return trip!
Things to do in Lisbon with Teens:
The first thing we did upon arrival was pick up our Lisboa Cards.  We highly recommend getting these cards.  We had the 72 hour cards for our 4 day trip. You'll get FREE access into a lot of the museums and attractions plus FREE public transportation. Train travel to Sintra and Cascais was also included!
Lisboa Story Center:
The Lisboa Story Center allows visitors to travel through 20 centuries to learn the history of Lisbon through interactive multimedia exhibitions. It was interesting to learn how international trade brought in new wealth and an influx of exotic animals to Lisbon and how the spice trade with India helped finance new architecture.
An audio guide was included to talk you through the exhibits, though K only listened about half the time. It was a great way for older kids (and adults) to get a fairly quick overview of Lisbon's long history.  One of our biggest take aways from the center was learning about the November 1755 earthquake that devastated the city. Since we visited here first, we were able to tie some of what we learned into the rest of our visit.
Tickets:
Adults: 7€
Children (6-15): 3€
Families: 18€
*Free with Lisboa Card
Arco Monumental da Rue Augusta:
After visiting the Lisboa Story Center and wandering the Terrier do Paço Square, walk over to the Arco Monumental da Rue Augusta. There is a great panoramic view from the top and an interesting bit of history in the Clock Room. The great feature of going up to the top of this monument was that it didn't ever seem busy. We walked right in during our visit. Even walking past on other occasions, we didn't notice a queue. Cheap entrance fee + no wait = a big win!
Tickets:
Adults: 2.50€
Children (0-5): free
*Free with Lisboa Card
Elevador de Santa Justa:
The popular 147ft (45m) tall cast-iron Elevador de Santa Justa opened in 1902 and quickly became one of Lisbon's popular landmarks. Not only can you get spectacular 360º views from the top, but the lift connects the Baixa neighborhood to the Bairro Alto district. We used the lift for easy access to the Musee Arqueológico do Carmo. Teens will appreciate another opportunity for selfies.
Tickets:
Adults: 5.15€
Children (0-3): free
*Free with Lisboa Card
The price includes the ride up and down as well as access to the viewing platform. If you purchased the 24 hour transport ticket (see below), you will need to pay extra to go up to the viewing platform.
Musee Arqueológico do Carmo:
After learning about the destruction of the Carmo Church during the Earthquake of 1755, we decided to visit the museum. Since the kids were both free, I took the kids in while Derrick waited outside. We spent very little time in the museum, mostly just wandering the church ruins. The kids honestly weren't too interested but since we had seen the Carmo Church on the video at the Lisboa Story Center, I wanted them to see the church to help put the film into perspective.
Tickets:
Adults: 4€
Children (0-14): free
*20% discount with Lisboa Card (3.20€ adult)
Travel on the Eléctrico 28:
No visit to Lisbon would be complete without jumping on the famous wooden Eléctrico 28.  If you have time, ride the entire route to view the city. This tram was the ideal way to discover Lisbon and avoid walking some of those hills! We rode the entire route as well as used it as part of our transport around the city.
*It gets crowded, so you may need to wait to board.  Also, be vigilant as pickpockets are a real issue here.
Ride the Funicular Style Trams:
Another way to avoid trudging up the hills is to ride the funicular style trams.  We rode the Elevador da Glória from Rua São Pedro de Alcántara down to Avenida da Liberdade. It was another rainy day and I didn't want to risk Lucy slipping and bruising her tush again. It's also just another one of those cool experiences to have in Lisbon!
Tickets:
With Return: 3.70€
*Free with Lisboa Card
The two trips included in your ticket price don't have to be on the same Elevador.
Museu Nacional dos Coches:
You'll definitely want to head to Belém during your time in Lisbon. We jumped on the train (Cascais Line) making our first stop the National Coaches Museum. The coaches were gorgeous and this museum was worth a visit, especially with girls. Lucy loved admiring the coaches from the 17th – 19th centuries. K was less interested, but did spend some time checking out the old firetrucks. Afterwards we walked to the Padrao dos Descobrimentos monument (Discoveries Monument). We didn't plan to go up in the monument, just did a quick walk by.
*Though I'm not sure I'd pay to visit the Coaches Museum if it hadn't been included with the Lisboa Card.
Tickets:
Adults: 8€
Children (under 12): free
*Free with Lisboa Card
Mosteiro dos Jerónimos:
The Jerónimos Monastery, a UNESCO World Heritage Site, was one of the most beautiful and ornate monasteries we have visited in Europe. Construction began in 1501 and took 100 years to complete. The line was long when we visited, so I can't imagine the wait in the summer months. While I think it was worth the visit, you could just visit the church if short on time. The church was free to visit with no queue.
Tickets:
Adult: 10€
Children (up to the age of 12): Free
Family Ticket: 50% discount
*Free with Lisboa Card
Torre de Belém:
We walked from the Monastery to the Torre de Belém. Now a UNESCO World Heritage site, the Tower was built as a defensive complex at the mouth of the Tagus River. Unfortunately it was closed during our visit, so we weren't able to go inside.  It was still cool to walk around and definitely worth seeing.
Tickets:
Adult: 6€
Children (up to the age of 12): Free
Family Ticket: 50% discount
*Free with Lisboa Card
We took tram 15 back toward the Lisbon's center after seeing the tower, stopping for lunch at LX Factory.
LX Factory:
Teens will have a great time exploring the LX Factory.  This hip stretch of old factory buildings house artisan shops, cafés, bars and restaurants.  There is also an open air market here on Sundays.  Due to pouring rain we didn't get to check out too much of the wall art and also skipped out on getting photos of the bridge from the rooftop. We did eat which was, of course, another reason our kids enjoyed the visit!
LXeeseCake – Oh how we all love our cheesecake!  The space is shared with a glasses shop, so you can buy glasses on one side and sit in a cool café on the other.  They also had good coffee.
Mez Cais – Go for some Mexican food in Portugal.  While not authentic, all the food was tasty – especially the burritos! The kids were a bit disappointed the table in the wrestling ring was already occupied. Yep, you read that right – a wresting ring in the restaurant.
We wanted to visit Experiência Pilar7 in the area as well, but ran out of time. The Pillar 7 experience is new and allows visitors to explore the 25 April Bridge. It looked like a cool experience, so I suggest adding it into your schedule if time allows.
*Pillar 7 is free with Lisboa Card
Fado in Chiado:
Fado in Chiado was not the typical concert kids ask to attend.  But it was a great way to immerse ourselves in Lisbon's culture. Fado music is a form of Portuguese singing that dates back to the 1820's. Fado in Chiado was the perfect way for us to experience the music, but short enough to keep the kids attention.  My kiddos wouldn't sit through hours of a Fado Show and dinner. I thought the singing was beautiful and the kids particularly loved the skill of the Portuguese guitar player.
The show only lasted approximately 50 minutes, so it was perfect for families.
Tickets:
Adults (ages 7+): 18.50€
Children (ages 4-6): FREE
Under 4's are not allowed.
*10% discount with Lisboa Card
Shows are everyday except Sunday at 7pm.
Museu do Fado:
To help prepare for your Fado show, visit the Fado Museum to let kids engage in the traditional Lisbon music and learn the evolution of the Portuguese guitar. Take some time to listen to the famous Fado musicians during the audio guide as well.
Tickets:
Adult: 5€
Children and families: Reduced
*30% discount with Lisboa Card
Castelo São Jorge:
The 11th century hillside Moorish castle, Castelo São Jorge, should not to be missed on any visit to Lisbon.  The castle wasn't built as a residence but instead was intended to house military troops and, in case of a siege, the elite who lived in the citadel.
Allow time to walk the ramparts, take photos in the towers, tour the archeological area, learn about the history of the castle and wander the gardens. There were also stunning views of the city and the river. We missed out on seeing camera obscura due to weather as well as the "Door of Treason" which allowed secret messengers to enter and exit the castle.  Lucy was thrilled to see peacocks wandering around.  It started to rain heavily during our visit and they were running for cover as fast as we were!
Tip – We visited later in the day and only waited in a short line.  I've read it can get busy during peak season, so I suggest planning to visit early in the morning or late in the afternoon.
Tickets:
Adult: 8.50€
Children (under 10): Free
Family: 20€
*30% discount with Lisboa Card
Hunt for Street Art:
Street art can be found all over Lisbon, but the Bairro Alto and Alcântara neighborhoods were particularly good areas.  Have kids keep their eyes peeled as you explore the city.  The urban art in some areas was more than just paint.  The raccoon above is a work by artist Bordalo II who uses garbage to create art.
Eat Pastel de Nata:
The delicious pastel de natas get their own section! These Portuguese egg tart pastries can be found in bakeries all over Lisbon. Listen for the ringing bell to know know when they're hot out of the oven.
An interesting fact – The pastel de nata was created before the 18th century at the Jerónimos Monastery by Catholic monks.
Surfing in Cascais:
When researching things to do in Lisbon, we kept reading about visiting the beaches of Cascais and how great the surfing was in the area. K's top experience was to take a surfing lesson in Cascais. Sadly, storms in the Atlantic during our entire trip made surfing for a newbie impossible.  He's already talking about having his uncle visit with us next time so they can surf together.
Julie with Gelato Travel shares her families experience surfing in Cascasi:
We stayed in Costa da Caparica, only about a 20 minute drive outside Lisbon, on the coast. I was on my own for the week with 3 kids, so I decided to put them into surfing lessons for the week. Best idea yet. The kids absolutely loved the surfing. The water was still a bit chilly in June, especially if you are out there for a few hours, but the surfing school provided wet-suits with the lessons. We rented an Airbnb apartment  about 400 meters from the beach and set up near the surf camp. The surfing instructors were very knowledgeable and spoke English very well. After about the 3rd day the kids seemed to manage their boards on their own and enjoyed catching the waves. The waves were not so large, so it was the perfect time for lessons, although, the instructor followed the tides and always let us know what time to show up for lessons. It varied from day to day. Overall our experience was very positive. We just returned from surfing in the North of Portugal, and even though it was beautiful, spring surfing was a little to rough for us beginners. I would highly rate Portugal as a surfing destination, it is beautiful and affordable.
Day Trip to Sintra:
We had a fantastic day exploring 3 of the Palaces of Sintra. The train ride from Lisbon only takes about an hour.  Not far from the station, you can take the bus to explore the palaces. Stay tuned for a dedicated article on the Sintra Palaces.
Public Transport:
Since Lisbon is the city on 7 hills, you will likely find yourself using public transport quite a bit. We usually prefer to walk when traveling (and we still did in Lisbon) but there are some steep hills! Using the tram system was a great way to get around.
Single Ride Adult Fare:
Buses: 1,85€
Trams: 2,90€
24 hour Adult Ticket:
Carris/Metro network: 6.30€
*Includes the buses, trams, lifts (including the Elevador de Santa Justa) and funiculars
Bica, Glória and Lavra Funiculars (up to 2 journeys): 3,70€
Train to Cascais or Sintra:
Adult: 2.20€
Child: 1.10€
+Viva Viagem card for €0.50
Lisbon Card Rates 2018:
| | 24-Hour Card | 48-Hour Card | 72-Hour Card |
| --- | --- | --- | --- |
| Adults | €18,50 | €31,50 | €39,00 |
| Children (ages 4-15) | €11,50 | €17,50 | €20,50 |
Make sure you don't write the start time on your Lisboa Card until you actually use it on public transport or in a museum. Your time doesn't actually start until you use the card!
Is the Lisboa Card worth the cost?  YES!
We would have spent over 30€ per adult just in attractions.  Not including the 2 attractions that we didn't get a chance to visit. The value of the Lisboa Card was exceeded by all the use of public transport.  We used the trams many times, took the funicular, and rode on the train to and from Sintra as well as to Belém. The train travel alone would have cost over 7€ with the Viva Viagem card. Additionally, the card offered savings for a few other attractions not included.
Places to eat in Lisbon:
We received a ton of recommendations for places to eat in Lisbon, so we didn't get a chance to try them all. Save money by ordering the daily specials (prato do dia) if available.
Time Out Market:  You must stop by the Time Out Market for lunch or dinner! Located near the main train station, you'll find food from all over the world. It's the perfect spot for families as everyone can pick the type of food they're in the mood for plus the ambiance is cool.
Manteigaria – Go here for the best pastel de natas. They were delicious and a local told us this was THE place to go.
A Padaria Portuguesa – Start your day of with a good and inexpensive breakfast.
Honorato – If kids are in the mood for a burger, you can find several Honorato locations.  The burgers were pretty good and fairly inexpensive.
Kitchen Chiado – We stumbled upon this restaurant by chance and Derrick is still talking about his steak with Portuguese cheese.
Can the Can – Located in Praça do Comércio, the food and wine were good but it was a bit on the expensive side. The can decor is cool and you could dine outdoors if the weather is nice.
Cantinho do Avillez and Bairro do Avillez – Located in the Chiado neighborhood, these Portuguese and Peruvian restaurants are owned by renowned double Michelin Star Chef, José Avillez. Everyone raved about these restaurants as having fantastic food without the Michelin star prices.  However, we left a little disappointed.  I had high expectations from all the hype.  While the food was good, it was our most expensive meal of the trip and I can't say it was worth the cost.
Restaurante Granja Velha – We didn't get a chance to eat here but it was highly recommended as the place to try traditional Portuguese cuisine.
Traditional dishes in Lisboa:
Meat
Iscas (marinated liver cooked with ham and potatoes)
Bife à Café (grilled or fried steak with chips, rice, fried egg and salad)
Frango Assado (chicken in the barbecue)
Porco à Alentejana (marinated pork with wine and cooked with clams)
Cozido à Portuguesa (boiled cabbage with sausages, ham and potatoes)
Pataniscas (salt cod fritters)
Fish
Bacalhau (dried salted cod. The Portuguese use to say that there are 365 ways to prepare Bacalhau, one for each day of the year. It is easy to find it grilled, casseroled with potatoes and onions, with scrambled eggs, onion and potato)
Lulas (fried or stuffed squid)
Arroz de Marisco (seafood rice dish)
Caldeirada de Peixe (seafood stew)
Grilled sardines, salmon, mackerel and swordfish (served with boiled potatoes and salad)
Arroz de Tamboril (rice with monkfish stew)
Ameijôas (clams with garlic and coriander)
Soup
Sopa de Legumes (vegetables' soup, with cabbage, potato, carrots, beans, onion…)
Caldo Verde (cabbage soup with potato and sausage slices)
Portuguese Wines
Bucelas (dry, white, from the Region)
Dão (red, sweet and velvety)
Colares (red, from the Region)
Moscatel de Setúbal (from the Region)
Quinta da Bacalhoa (red, from the Region)
Alentejo – Reguengos (red)
Casal Garcia (young, sparkling)
Alvarinho (young, sparkling)
Where to stay – Our cute Lisbon apartment rental:
If you're staying in Lisbon for more than a couple of days, I recommend renting an apartment. Those big kids take up a lot of space!!  We rented an apartment through Airbnb in the Chiado neighborhood.  The location was perfect for exploring and even though the bedrooms were smaller, there was plenty of space.  Had the weather cooperated, we could have used the large outdoor patio.
New to Airbnb? Use THIS LINK to sign up and get a $40 credit on your Airbnb rental!
Lisbon is a city that should be added to your next European vacation.  The brightly colored buildings, open squares, and sweeping vistas surpassed our expectations. We all fell in love with this hilly, coastal city. From the hip LX Factory to the opulent palaces in Sintra, there was so much for our family to experience that we're ready to make a return visit.
What other things to do in Lisbon can you suggest?
*Prices can change at anytime.
Disclosure: We received Lisboa Cards and entrance into other attractions to help facilitate this review. As always, opinions are 100% my own and may differ from others.